Rubber Synthetic Teak for Boats UK
Introduction
Rubber synthetic teak materials in conjunction with the Deckfab system of fabricating decks will transform the appearance of your boat deck. Rubber synthetic teak is made to templates and despatched in kit form ready to lay on board the boat by certified fitters.
.
Rubber Synthetic Teak Key Features
With over 20 years of experience in the manufacturing and installation of synthetic teak decks, our experts have formulated a unique solution that caters to all your decking needs. It is non-slip, wet or dry; offers low maintenance and looks like new teak season after season. Rubber synthetic flooring for boats is:
cost effective
stain resistant
simple to keep clean
superb insulation qualities
cool to walk on
We have a dedicated team of experienced professionals located across the globe, who are always ready to assist you with the design, manufacturing, and installation of your synthetic deck.
We value our customers and are devoted to providing high-quality products and services that meet their specific needs.
Don't wait any longer to transform your boat into a stunning decked area with Deckfab
Deckfab Synthetic Teak Decking Kits
After many years of deck panel making using all the leading material brands we now work with decking system called Deckfab. The system allows rubber synthetic teak panels to be fabricated in kit form for despatch to Beautiful Marine Floor Fitters. The kits are are fabricated from supplied templates and assembled and fitted aboard the boat.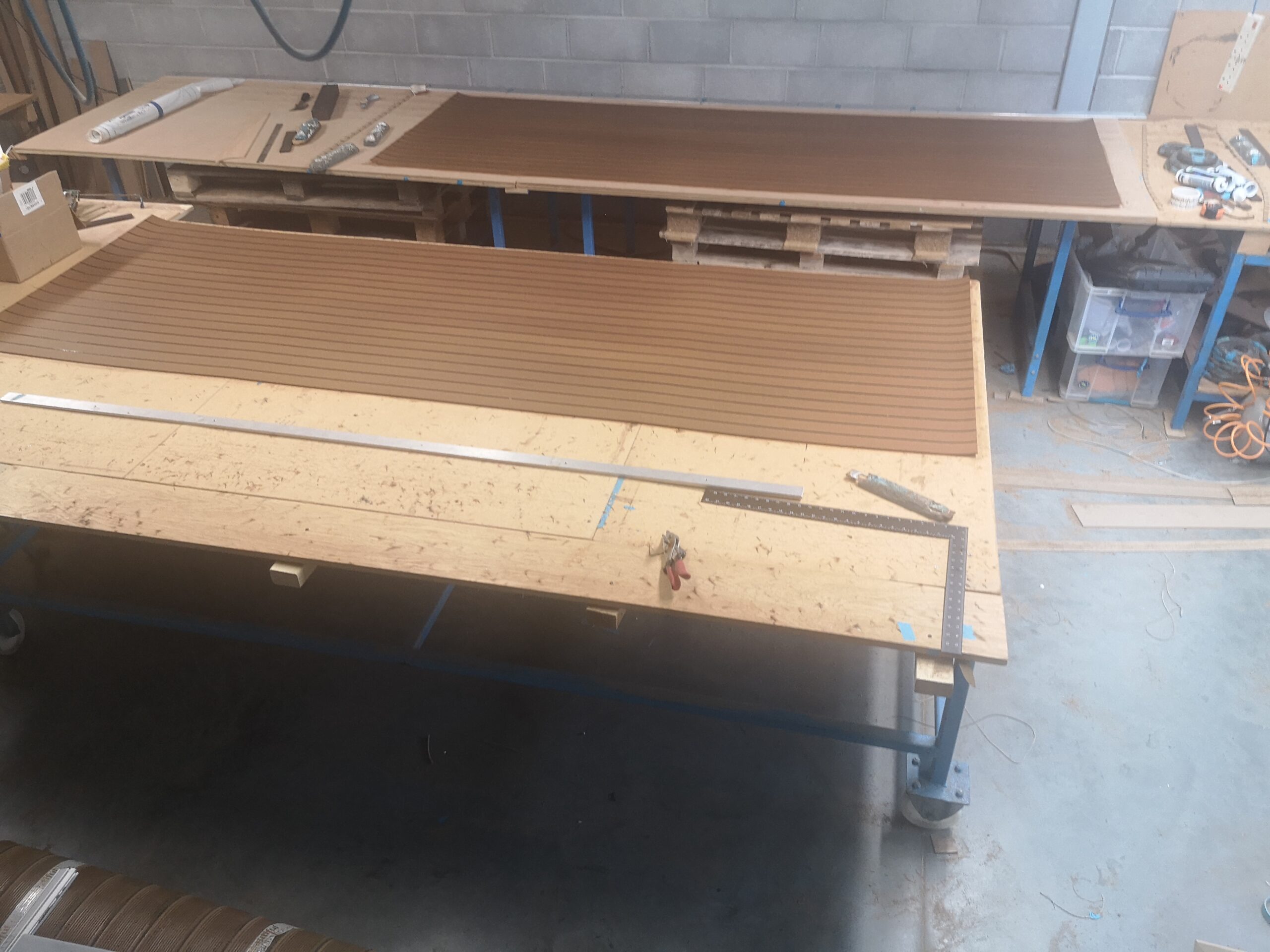 The Deckmakers
The Deckmakers for Beautiful Marine Floors are Fabrication Services in the South of UK and GS Deckfit in the North. The deckmakers are second to none in terms of their experience in this very specialised field. The decks are distributed to carefully selected fitters to ensure the product quality is maintained throughout. 
Maintenance
Rubber synthetic teak requires minimal maintenance to retain its excellent appearance. With its durable composition, it eliminates the need for regular expensive cleaning making it a an obvious choice. A simple rinse or a jet wash is enough for a deep clean that restores the decking to its new-like finish. Stains caused by common spills like oil, fuel, red wine, and fish blood can usually be removed with soap and water, providing you with a hassle-free cleaning experience. Should there be damage or severe staining in local areas it is easy to repair local areas.
Durability and Guarantees
We guarantee that our original decks will remain beautiful and durable for years to come, with many of our decks still looking stunning after years of use. Our products are backed by an exceptional 6-year guarantee against material defects, which is further complemented by the additional guarantees for deck panel integrity offered by our deckmakers